Lookout Mountain Presbyterian-Sanctuary
Lookout Mountain Presbyterian Church was first formed as a
non-denominational community church in tandem with St. Elmo Presbyterian
Church in May of 1892. On Sunday, October 16, 1892, the church was
officially organized with 26 charter members, most of whom were mountain
residents who came from First Presbyterian, Chattanooga. On October 4,
1894, the first service was held in the first small, semi-circular room on
the front of the new church. It was located on what is now the upper
playground of the Lookout Mountain School.
In the true spirit of still being a community church, though a Presbyterian
mission, a Methodist minister was called in 1917 and served for 6 years.
Plans for a new facility came in went, as did the pastors for next few
years. In January 1928 a serious fire broke out during a service, which
made further discussion about whether or not to build rather moot.
In the Spring of 1928, the Episcopalians in the still nondeminational church
left to for the Church of the Good Shepherd and the church was officially
designated part of the Knoxville Presbytery.. In November of that year the
remaining congregation held its first services in a new stone building on
the present site. It was dedicated in March of 1929. The architect was R.
H. Hunt, who designed many of the finest buildings in Chattanooga. The
church is said to be modeled after the Church of the Nativity in Union, SC.
>From 1954-1956, a major building project took place. A new kitchen and
fellowship hall were built, after which services were moved to the new hall
while the sanctuary was nearly doubled in length. A new Moller organ was
installed in the sanctuary in 1955 and Stephen Ortlip became the minister of
music, quickly beginning a well-respected music program that continues to
this day. From 1965-1968 another building project saw the addition of the
L-shaped south wing containing new classrooms and a large chapel, with a new
Schlicker installed in the chapel gallery. The L-shaped addition matched
the L-shaped building containing the fellowship hall and sanctuary, creating
a beautiful courtyard in the center.
The original 1929 sanctuary saw the installation of Moller Opus 5460, a
two-manual with 30 registers. That organ was replaced in the enlarged
sanctuary by Moller Opus 8674, a three-manual of 29 ranks, installed in
1955. No doubt some of the 1929 pipework was retained in the 1955
installation. Three Antiphonal divisions were prepared for, but never
installed. The entire organ was under expression. In 2000, Barber & Nix
replaced the console with a large three-manual console built by R. A. Colby.
Five ranks are to be added in 2003, with more on the way as funds come in.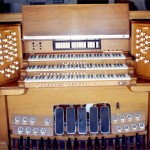 M. P. Moller, Inc., Opus 8674, 1955, 3/29
GREAT
8′ Principal
8′ Spitzflote
4′ Octave
2 2/3′ Quinte
2′ Super Octave
III Mixture
Tremolo
Sub
Unison Off
Super
Chimes
ANTIPHONAL GREAT
Four blank knobs
SWELL
16′ Contra Gambe
8′ Gedeckt
8′ Viole de Gambe 12
8′ Viole Celeste
4′ Octave Geigen
4′ Flute Triangulaire
III Mixture
8′ Trompette
8′ Hautbois
4′ Hautbois 12
Tremolo
Sub
Unison Off
Super
ANTIPHONAL SWELL
Six blank knobs
CHOIR
8′ Chimney Flute
8′ Dulciana
8′ Unda Maris
4′ Koppelflote
2 2/3′ Nazard
2′ Blockflote
1 3/5′ Tierce
8′ Cromorne
Tremolo
Sub
Unison Off
Super
Chimes
PEDAL
32′ Resultant res
16′ Contrebass
16′ Contra Gambe SW
16′ Contra Dulciana 12
8′ Contrebass 12
8′ Gambe SW
8′ Dulciana CH
5 1/3′ Quint 5
4′ Choralbass
16′ Posaune
8′ Trumpet 12
4′ Clarion 12
ANTIPHONAL PEDAL
Two blank knobs
Barger & Nix 2000 3/46
GREAT (enclosed)
8′ Principal 61
8′ Dopple Flute 61
8′ Spitzflöte 61
8′ Spitzflöte Celeste 49 tc
4′ Octave 61
4′ Bourdon 61
2 2/3′ Twelfth 61
2′ Super Octave 61
III Mixture 183
IV Scharff 244
16′ English Horn 61 (2009)
8′ Trumpet 61 (2009)
8′ English Horn 12 (2009)
4′ Clarinet (pf)
Tremolo
Sub
Unison Off
Super
Chimes (pf)
Carillon
16′ Festival Trumpet tc (pf)
8′ Festival Trumpet CH (pf)
4′ Festival Trumpet CH (pf)
SWELL
16′ Contra Gamba 12
16′ Lieblich Gedeckt 12 (2005)
8′ Geigen Principal 12 (2005, etc. of 4;)
8′ Gedeckt 73
8′ Gamba 73
8′ Gamba Celeste 66 gg
8′ Viol d'Orchestre (pf)
8′ Viol Celeste tc (pf)
8′ Aeoline (pf)
8′ Aeoline Celeste (pf)
4′ Octave Geigen 73
4′ Flute Triangulaire 61
2 2/3′ Nasard — (Gedeckt)
2′ Flute Ouverte 12 (2005)
III Plein Jeu 183
16′ Contre Trompette 12 (2005)
16′ Contra Oboe 12 (2009)
8′ Trompette 73
8′ Hautbois (pf)
8′ Oboe 73
8′ Flugel Horn (pf)
8′ Vox Humana (pf)
4′ Clairon 12 (2005)
4′ Hautbois (pf)
4′ Oboe 12
Tremolo
Sub
Unison Off
Super
16′ Festival Trumpet CH
8′ Festival Trumpet CH
4′ Festival Trumpet CH
CHOIR/POSITIV
16′ Contra Dulciana 12
8′ Spitz Principal 61
8′ Chimney Flute 73
8′ Dulciana 73
8′ Unda Maris 66 gg
8′ Silver Flute (pf)
8′ Silver Flute Celeste (pf)
8′ Erzähler (pf)
8′ Erzähler Celeste (pf)
4′ Spitz Principal 12 (2003)
4′ Koppelflöte 73
2 2/3′ Nasard 61
2′ Spitz Principal 12
2′ Blockflöte 61
1 3/5′ Tierce 61
1 1/3′ Larigot 61 (2003)
III Fourniture — (unit with Zimbel)
III Zimbel 183 (2003)
16′ Trichterregal 73
8′ Krummhorn 73
4′ Rohrschalmei 73
Tremolo
Sub
Unison Off
Super
Chimes (pf)
Carillon
Zimbelstern
8′ Festival Trumpet (pf)
PEDAL (enclosed)
32′ Contre Basse — (resultant)
32′ Contra Bourdon — (resultant)
32′ Contra Dulciana — (resultant)
16′ Contre Basse 32
16′ Bourdon 32 (2005)
16′ Contra Gamba SW
16′ Lieblich Gedeckt SW
16′ Contra Dulciana CH
10 2/3′ Sub Quint SW
8′ Octave 32
8′ Contre Basse 12
8′ Bourdon 12 (2005)
8′ Gamba SW
8′ Gedeckt SW (2005)
8′ Dulciana CH
5 1/3′ Quint 7
4′ Choralbass 5
4′ Bourdon GT (Doppel Flute)
2′ Flute Triangulaire SW
IV Mixture 36 (pf for pipes)
32′ Contra Trombone — (resultant, pipe pf)
32′ Contra Bassoon SW (resultant, pipe pf)
16′ Trombone 32
16′ Contre Trompette SW (2005)
16′ Bassoon SW (Oboe)
16′ English Horn GT (2009)
16′ Trichterregal CH
8′ Trumpet 12
8′ Bassoon SW (Oboe)
8′ English Horn GT (2009)
4′ Klarine 12
4′ Hautbois SW (pf)
8′ Festival Trumpet CH (pf)
4′ Festival Trumpet CH (pf)
Chimes (pf)