Sts. Peter & Paul RC Church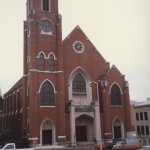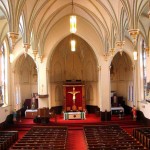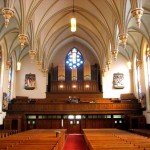 The first mass celebrated in Chattanooga was said by priests with the
Hernando Desoto expedition in June 1540. The first Catholic church in the
city was built in 1850 on Pine between 3rd and 4th Streets. The parish was
established in January 1852. The second building was completed in 1857 and
was located where the old convent is today. The convent, completed in 1908,
was built on the foundations of the second church. A fine stone church was
begun in 1858 at the corner of Georgia and 8th, but the Civil War brought
construction to a halt. The stones used thus far were gradually carted off
by the Federal troops until nothing was left.
Construction on the present church started on February 1, 1888. The
five-ton cornerstone, at the time the largest in America, was laid one year
later and the church was dedicated on June 29, 1890. The 14 stained glass
windows, designed by Louis Comfort Tiffany, are each 30 feet high and 7 feet
wide. They depict the principal events in the lives of Saints Peter and
Paul. The stations of the cross were completed over the course of 17 years
by an unknown artist and finished in 1892; they were made in Paris. The
window behind and above the organ contains the seal of the United States.
The church was redectorated in 1936. In 1939 the facade of the church was
replaced due to deterioration of the decorative sandstone; only one of the
two towers was rebuilt at this time. The church seats around 1,000 and is
noted for its outstanding acoustic.
The first organ was a 3-manual Barkhoff installed in the rear gallery around
the time the church was built. It was the largest organ in the city for
nearly twenty years. It was replaced by a 3/23 Kilgen in 1937; nearly all of the
Barkhoff pipework was retained. The organ was tonally altered by Lee Organs
in 1991.In 2007, Barger & Nix did a major rebuild of the instrument, retaining
and repairing all the Barkhoff and Kilgen pipework and making judicious additions.
The windchests were all rebuilt or replaced and the console was completely rebuilt
with SSL memory.
George Kilgen & Son, Inc., 1937, 3/23
GREAT
8′ Open Diapason
8′ Doppelflote
8′ Viol d'Gamba
4′ Octave
8′ Tromba
Tremolo
Sub
Unison Off
Super
Chimes
SWELL
8′ Geigen Diapason
8′ Gedeckt
8′ Salicional
8′ Voix Celeste
4′ Flute Traversiere
III Mixture
8′ Oboe
Tremolo
Sub
Unison Off
Super
CHOIR
8′ Open Diapason
8′ Melodia
8′ Dulciana
8′ Unda Maris
4′ Flute d'Amour
Tremolo
Sub
Unison Off
Super
PEDAL
16′ Major Bass
16′ Bourdon
16′ Lieblich Gedeckt 12
8′ Flute 12
8′ Still Gedeckt SW
Kilgen/Lee Organs, 3/31, 1991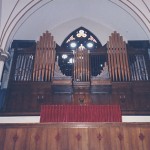 GREAT
16′ Quintade
8′ Principal
8′ Dopple Flute
4′ Octav
4′ Waldfloete
2′ Super Octav
IV Fournitur
8′ Trompette
Unison Off
Super
Chimes
SWELL
8′ Flute Harmonique
8′ Viola Pomposa
8′ Voix Celeste
4′ Prestant
4′ Flute Traversa
2′ Flute a Bec
III Plein Jeu
8′ Hautbois
Tremulant
Sub
Unison off
Super
CHOIR
8′ Holzgedeckt
8′ Dulce
8′ Unda Maris
4′ Bourdon
2′ Principal
1′ Flute
II Cornet
Tremulant
Sub
Unison Off
Super
Blank
PEDAL
32′ Resultant w
16′ Major Bass
16′ Subbass
16′ Quintade GT
8′ Principal 12
8′ Bass Floete 12
4′ Choralbass 12
2′ Octavin 12
16′ Double Trumpet 12
8′ Trumpet GT
Barger & Nix Organs 3/33 2006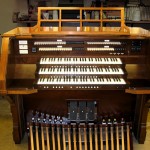 GREAT
8′ 1st Open Diapason
8′ 2nd Open Diapason
8′ 3rd Open Diapason
8′ Doppel Flute
8′ Hohl Flute (1-12 Doppel Flute; 13-61 Wald Flute)
4′ Octave
4′ Wald Flute
2 2/3′ Twelfth
2′ Super Octave
VII Diapason Ensemble (draws all GR Diapason stops)
IV Mixture (1 1/3′)
8′ Tuba (high wind)
4′ Clarion 12
Tremolo
Sub
Unison Off
Super
Chimes
SWELL
16′ Gedeckt 12
8′ Geigen Principal
8′ Gedeckt
8′ Harmonic Flute (1-12 Gedeckt; 13-61 Traverse Flute)
8′ Salicional
8′ Voix Celeste
4′ Octave Geigen 12
4′ Traverse Flute
2′ Flautino 12
III Plein Jeu (2 2/3′)
8′ Trompette (prepared for)
8′ Oboe
8′ Vox Humana
4′ Oboe Clarion (prepared for)
Tremolo
Sub
Unison Off
Super
CHOIR
8′ Open Diapason
8′ Melodia
8′ Dolce Flute (1-12 Melodia; 13-61 Flute d'Amour)
8′ Dulciana
8′ Unda Maris
4′ Octave 12
4′ Flute d'Amour
2 2/3′ Nazard
2′ Piccolo
1 3/5′ Tierce
8′ Clarinet (prepared for)
Tremolo
Suib
Unison Off
Super
Chimes
PEDAL
32′ Resultant —
16′ Open Diapason
16′ Bourdon
16′ Lieblich Gedeckt SW
10 2/3′ Sub Quint SW
8′ Diapason GT (2nd Open)
8′ Bourdon 12
8′ Gedeckt SW
5 1/3′ Quint Gedeckt SW
4′ Octave GT (2nd Open)
2′ Octavin GT (2nd Open)
II Rauschquint GT (Twelfth)
32′ Contra Trombone 12 (prep for pipes; now Cornet)
16′ Trombone 12 GT
8′ Tuba GT
4′ Clarion GT