AGO Chattanooga
Please join the Chattanooga AGO Chapter members, friends, and supporters at our next monthly sponsored event: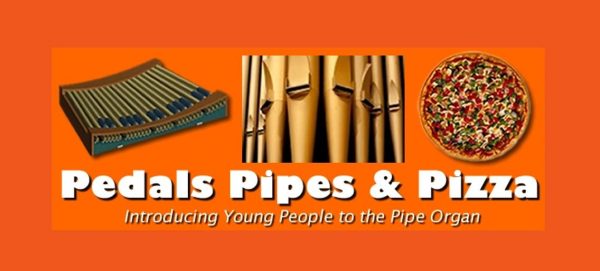 Third Annual "Pedals, Pipes, & Pizza"

Saturday, October 21, 2017, 12:00 p.m.

Brainerd United Methodist Church (4315 Brainerd Road, 37411)
The Chattanooga Chapter of the American Guild of Organists would like to invite the area piano students of all ages to attend our Pedals, Pipes and Pizza Event on Saturday, October 21, from 12 noon to 2 p.m. Join us for an opportunity to learn about the pipe organ, its operation and construction, and bring your music for a chance to play! There is no cost for this program and there is no need to RSVP. Parents and teachers are welcome as well! Click here for a flier that may be printed for display or for distribution to students.
Additionally, the Chapter is pleased to announce the offering of five scholarship for 10 organ lessons to students who attend. The scholarships are with local organists with a wide variety of denomination experience and background and locations including Mr. James Bailiff, Mr. Jason DuRoy, Dr. Sarah Harr, Dr. Keith Reas, Mr. John Wigal and Ms. Evangeline Wykoff. Application forms, which will include a statement of parental support, will be available at the Pedals, Pipes and Pizza Event.
For Additional information on both the event and the scholarships, contact Mr. Buddy Shirk, buddyshirk@gmail.com or John Wigal, jwigal@gslookout.com.
2017-2018 Program Calendar Dates:
October 21, 2017, 12:00-2:00 p.m.: Pedals, Pipes, and Pizza, Brainerd United Methodist Church
November 14, 2017, 7:00 p.m.: Holiday Spectacular with the Chattanooga Music Club, Memorial Auditorium
January 29, 2018, 7:00 p.m.: Student Recital, Basilica of Saints Peter & Paul
February 25, 2018: 4:00 p.m. Evensong and Dinner, Sewanee University of the South
April 27 and 28, 2018: Recital (7:00 p.m.) and Masterclass (10:00 a.m.) by Katherine Meloan, First-Centenary United Methodist Church
May 2018: End of Program Year Dinner and Worship, TBD
Follow us on Facebook! Just click here to join!