AGO Chattanooga
Please join the Chattanooga AGO Chapter members, friends, and supporters at our next monthly sponsored event: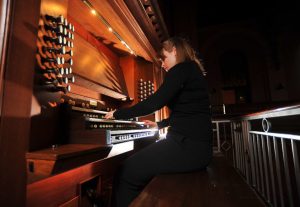 Katelyn Emerson, 2016 NYACOP Winner
Masterclass: Thursday, February 16, 2017, 6:30 p.m.

"Registering Historic Organ Works on Contemporary American Organs"
Join Katelyn and other CAGO members after the Masterclass for dinner at 212 Market Restaurant at 8:00 p.m.
Recital: Friday, February 17, 7:30 p.m.
St. Paul's Episcopal Church, 307 W. 7th Street, Chattanooga, 37402

Click here to purchase tickets for the recital.
"Amazing, incredible, and inspiring were just some of the adjectives I heard our members use to describe [Katelyn's] seemingly-effortless performance."(Lexington Chapter, American Guild of Organists, October 2012)
American organist Katelyn Emerson performs throughout the United States and Europe, showcasing repertoire spanning from the 14th-21st centuries and giving "superlative performance with musical precision".
First-prize winner of the AGO's 2016 National Young Artists' Competition in Organ Performance, the Guild's premier performance competition, Katelyn will be honored with a recital at the 2018 National Convention of the AGO in Kansas City (MO, U.S.A.) and will release a recording under the Pro Organo label in the 2017-2018 season. Katelyn received the Second Jean Boyer Award in the 2014 Fifth International Organ Competition Pierre de Manchicourt in Béthune and Saint-Omer, France and the second prize of the 2015 Arthur Poister Scholarship Competition in Syracuse, New York, where she will return to give a "Rising Star" recital in 2016.
Follow us on Facebook! Just click here to join!