AGO Chattanooga
Please join the Chattanooga AGO Chapter members, friends, and supporters at our next monthly sponsored event: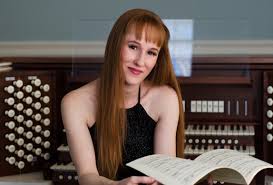 Recital and Masterclass by Dr. Katherine Meloan

Recital: Friday, April 27, 7:00 p.m.

Masterclass: Saturday, April 28, 10:00 a.m.

First-Centenary United Methodist Church, 419 McCallie Avenue, 37402

Dr. Katherine Meloan will be presenting a recital on April 27 at First Centenary Methodist Church. She will be playing the works of François Couperin, Fanny Hensel-Mendelssohn, J.S. Bach, Hugo Distler, Paul Hindemith, the transcription by Lemare of Camille Saint Saëns' Danse Macabre.
On Saturday April 28, Katie will present a masterclass incorporating the pianist who is interested in studying organ in addition to the intermediate-advanced organ student. Service playing will also be discussed.
If you would like to play for the masterclass, please email Sarah Harr at sarahharr@ymail.com. All ages and skill levels are welcome!
2017-2018 Remaining Program Calendar Dates:
May 15, 2018: End of Program Year Dinner (6:00 p.m.) and Evensong (7:00 p.m.), Hixson United Methodist Church

Follow us on Facebook! Just click here to join!