AGO Chattanooga
Please join the Chattanooga AGO Chapter members, friends, and supporters at our next monthly sponsored event: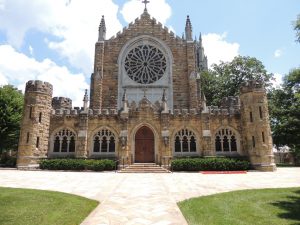 An Evening at Sewanee:

Evensong with the University Choir, Faculty Organ Recital, & Dinner
Sunday, February 25, 2018, 4:00 p.m.

All Saints Chapel, Sewanee University of the South

On Sunday February 25, 2018 the University of the South will host the Chattanooga chapter of the American Guild of Organists. The University Choir will present Choral Evensong followed by an organ recital at 4 pm. The choir has 50 undergraduate students and is preparing for its first tour to Canada in May 2018. The University Organist and Choirmaster is Geoffrey Ward and the choir will be accompanied by the Assistant Professor of Church Music Ken Miller. Both Drs. Ward and Miller will play for the recital following evensong. Music included for the service will include preces and responses by Ayleward, canticles and motets by Charles Wood and organ music by J.S. Bach. The program will be 75 minutes in length and dinner will follow at McClurg dining hall. McClurg is located directly across from the chapel and the cost for dinner is approximately $11.00.
If you plan to join us for dinner, please RSVP by Monday, February 19 to program@agochattanooga.org.
2017-2018 Remaining Program Calendar Dates:
April 27 and 28, 2018: Recital (7:00 p.m.) and Masterclass (10:00 a.m.) by Katherine Meloan, First-Centenary United Methodist Church
May 2018: End of Program Year Dinner and Worship, TBD

Follow us on Facebook! Just click here to join!