Home
Please join the Chattanooga AGO Chapter members, friends, and supporters at our next monthly sponsored event: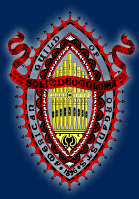 Third Annual Progressive Dinner and Organ "Crawl"

Thursday, September 21, 2017, 6:00 p.m.

Thankful Memorial Episcopal Church, Lookout Mountain Presbyterian Church, and Good Shepherd Episcopal Church
$20/person, Reservation required (program@agochattanooga.org)
Stay tuned to our website and Facebook page for more details!

2017-2018 Program Calendar Dates:
October 21, 2017, 12:00-2:00 p.m.: Pedals, Pipes, and Pizza, Brainerd United Methodist Church
November 14, 2017, 7:00 p.m.: Holiday Spectacular with the Chattanooga Music Club, Memorial Auditorium
January 29, 2018, 7:00 p.m.: Student Recital, Basilica of Saints Peter & Paul
February 2018: TBD, Sewanee
April 27 and 28, 2018: Recital and Masterclass by Katherine Meloan, First-Centenary United Methodist Church
May 2018: End of Program Year Dinner and Worship, TBD
Follow us on Facebook! Just click here to join!